Content of the article
Alberta RCMP are looking for three suspects involved in a robbery that used heavy equipment to smash into a bank.
Content of the article
In a statement on Monday, RCMP said they received a report of a break and enter in progress at a bank in Warburg, about 100 km southwest of Edmonton, shortly before 3 a.m. Sunday.
Breton and Thorsby RCMP responded to the call and found that although the suspects had fled the scene with an undisclosed amount of cash, the building had been severely damaged by heavy equipment being used to ram the wall.
Content of the article
The investigation led police to the site of a nearby business, RCMP said, where suspects had broken into the building and stolen a front-end loader from the scene.
RCMP say the suspects fled in a pickup truck that was allegedly stolen around 8:30 a.m. Sunday in Warburg, and described it as a black 2007 Ford F-350 dual-style with Alberta license plate VBK19.
Content of the article
In a Monday press release, Gord Enders, president of Direct-Line Insurance, which is housed in the same building, said the suspects destroyed the front wall of the building but took nothing of value.
RCMP describe the first suspect as a burly six-foot-tall man with broad shoulders. He had a tan skateboard and wore a tan bib-style jumpsuit, a black sweater, dark gloves, a light-colored face mask, and a dark hat that possibly had a headlamp.
The second suspect is described as a thin, six-foot-tall man wearing black boots and pants and a black soft-shell jacket with white lettering on the left and right chest. The second suspect was also masked and wore a blue latex glove on his right hand, and a white glove with black lettering or a logo on his left hand.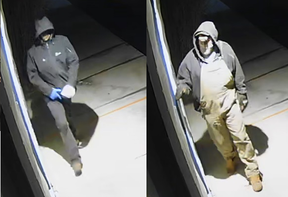 The third suspect was not seen outside the vehicle.
Breton RCMP are asking members of the public with information related to this incident to call 780-696-3520 or local police. Tipsters seeking to remain anonymous can submit a report to Crime Stoppers at 1-800-222-8477 (TIPS) or on line at www.P3Tips.com.