Honestly, I find scooters super cool! They are easy to drive, compact and also quite accessible! Weaving through traffic is super easy with them, finally allowing you to say goodbye to traffic jams. And since they are usually electric, you also automatically reduce fossil fuel consumption and are a major boost to planet Earth, if you choose to drive them. In an ode to scooters and their immense functionality, we've curated a collection of innovative and clever scooter designs that seem to be slowly taking over the automotive industry. From an electric scooter that folds down to half the size of a conventional scooter to a shape-shifting electric scooter – these scooter designs are everything you need to get around your city effortlessly!
1. Small Circle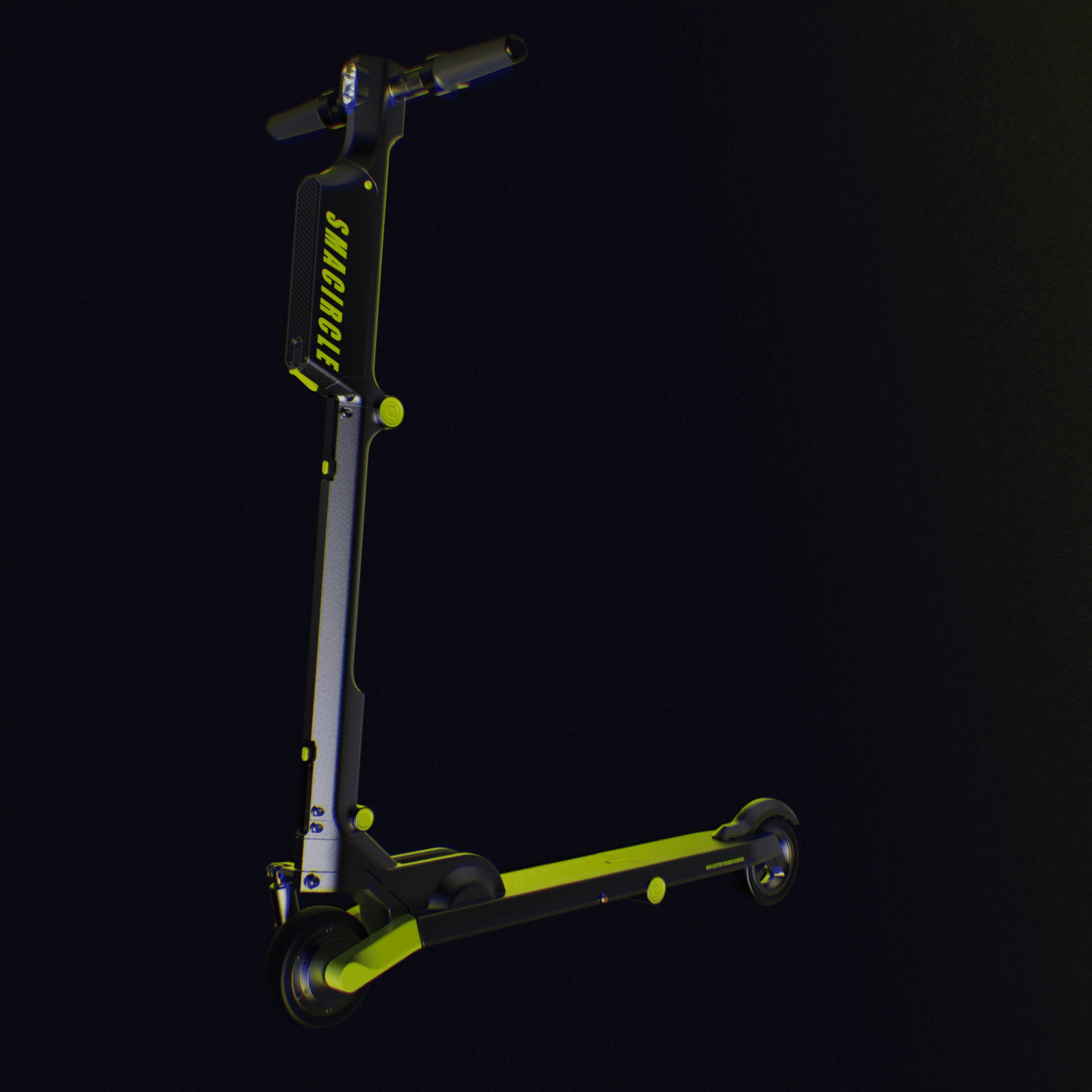 Rice Mak has conceptualized Smacircle, an electric scooter that folds down to half the size of a traditional scooter so you always have a ride as you zip through town. According to Mak, Smacircle solves the "last mile" problem of the most populated cities. While metros cover the majority of urban areas, the distance between each stop is at least one to two kilometers, which means your destination is probably one or two kilometers from each metro stop. Smacircle is an electric scooter that can fold down to a size you'll feel comfortable bringing on the subway, then once you're out you can zoom down the bike path to your destination.
2. The Zipper electric scooter
The Zipper Electric Scooter checks most of the boxes when considering how easy a scooter is to ride, folds it up when not needed, and is compact enough to store away after use. This urban ride is equipped with a 500W motor which brings it to a maximum speed of 20 mph and is capable of pushing it on inclined roads with a 25 degree slope. It can carry a rider up to 125kg, so most people are good to go. The scooter comes with a maximum range of 16 miles on a single charge which fills the 10Ah battery in around four hours.
3. The EXT E-Kick Scooter
Dailyn Kim's EXT E-Kick Scooter is the perfect example of an electric scooter done right. The reason – there are countless scooter ideas already on the market and this one brings a whole new dimension to riding. The EXT is designed with the flexibility of switching between short and longboard modes in mind. Apparently, the shortboard configuration on a scooter improves speed and performance for experienced riders, while the shape of the longboard promotes comfort and balance.
4. Taito
Designed to be the most "grown-up" alternative to most last-mile solutions like hoverboards and scooters, the TAITO has a stable 3-wheel design, IP55 water-resistant construction, an adjustable platform reinvented shock absorption and a 30km range, all packed into a lightweight 16kg (35lb) body that will make you want to ditch your e-bike to zip around town. Designed to handle more than last-mile rides, the TAITO can cover distances of 30 kilometers (18.6 miles) on a full charge.
5. YETTI
This rental scooter called YETTIE impresses at first glance with its clean and balanced design that seems tailor-made for the needs of city driving. The large, thick tires (by scooter standards) ensure that the rider is sure to corner at respectable speeds or ride on rainy days as well. The essence of the design is its Sin City 2077 panache which Roman explicitly highlights in the renders. Sure, it has to have some Cyberpunk 2077 influence – at least those LED lights and the flowing patterns on the inner lining of the front tires suggest it does.
6. Avci's electric scooter
Designer Fatih Avci has conceptualized a foldable electric scooter for city dwellers, equipped with a swiveling front wheel, a smartphone holder and a place to store your belongings. While the lightweight design and slim nature of e-scooters make them a practical choice, storing them can complicate matters. To solve this problem, designer Fatih Avci conceptualized a foldable electric scooter equipped with a swiveling front wheel and a hook for storing items like groceries.
7. Mopet
Mopet was primarily designed as a way for city dwellers to take their little puppies on trips that would be too far for small dogs. Since safety is the number one priority when considering pet-friendly modes of transportation, Mopet is equipped with many safety features. Users can turn on the e-bike high beam when riding at night to make their e-bike and little dog visible to oncoming traffic.
8.e-tron
When it comes to production, performance and styling, Audi is still top rated, which might explain the inspiration behind Kim's e-Tron design. Its take on the e-scooter resembles the cool metallic finish we've come to expect from Audi models, sporting a smooth, ice-grey coating for the bar and outer deck of the scooter. The bridge is equipped with a non-slip black rubber grip to keep your feet firmly planted as you cruise down the boulevard. You'll find the electric scooter's acceleration buttons on its handlebar, which is wrapped in a thin, smooth silicone grip for stable balance without any moisture absorption. The scooter's electronic display shines front and center on the scooter's handlebars. There you can read the time of day, as well as the e-Tron's battery levels and changing driving speed.
9. Mjotim
Mjotim, from Yifeeling Design Lab, was produced to meet today's technological standards while paying homage to the earliest forms of motorized scooters. Adhering to the typical scooter structure, Mjotim has been designed to be mounted upright, with the vehicle's engine enclosed inside and the gear information outside the steering column, as well as two handlebars, which are mainly used for steering. Mjotim is doing his expected job of getting runners from point A to point B and it looks good doing it. With natural burnt leather accenting the iconic retro colors.
10. The Mercedes-Benz electric scooter
Mercedes-Benz has launched this electric vehicle in collaboration with a Swiss scooter specialist, Micro, to make this electric scooter elegant, solid and efficient. It has an electric motor with a maximum power of 500 W which allows the scooter to accelerate to a speed of 20 km/h (permitted in Germany) while the 7.8 Ah battery offers a range of up to 25 kilometers away. This allows users to travel with speed, comfort and safety. The board is wide enough to provide enough space for both sensations and has a non-slip coating for added stability. The e-scooter has front + rear suspension and comes with 20cm diameter rubber wheels that effortlessly handle uneven surfaces like cobblestones, making it ideal for short city trips.
Source link